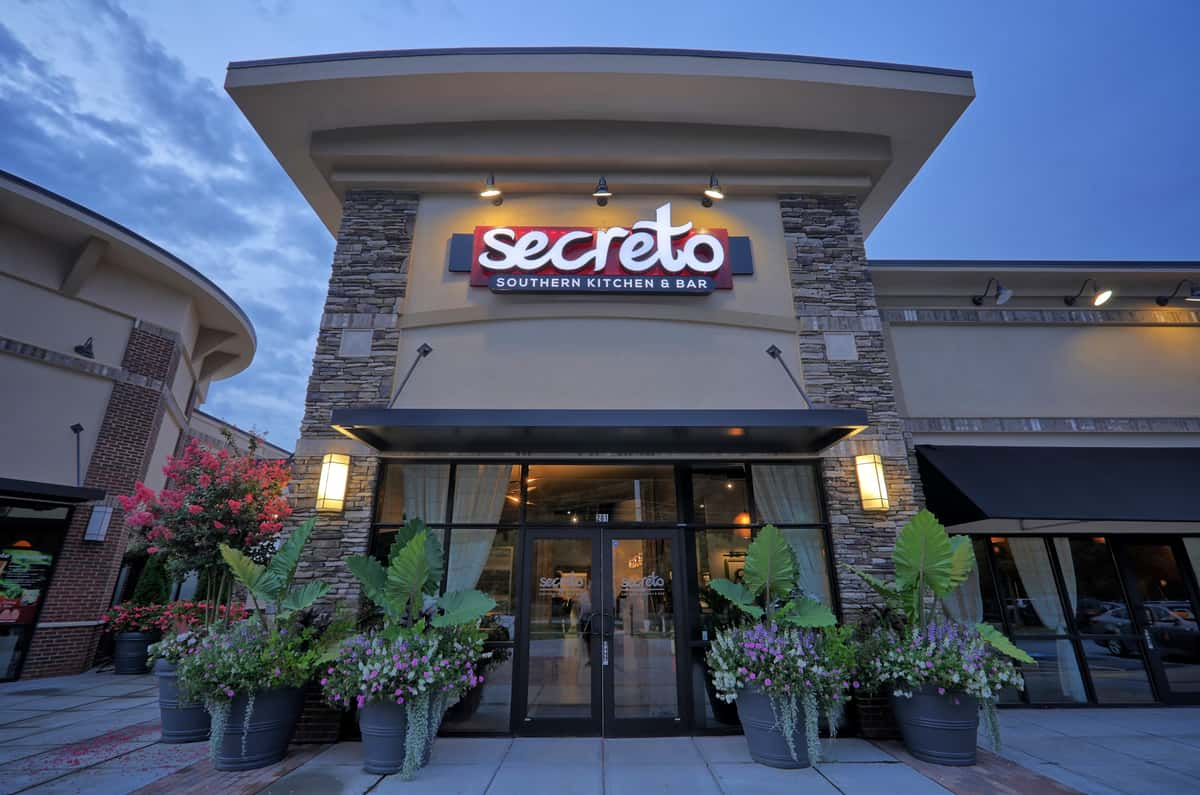 Beverages Brookhaven
Become a VIP
Be the first to receive updates on exclusive events, secret menus, special offers/discounts, loyalty rewards & more!
Beverages Brookhaven
Beers
Bottles & Cans
Boulevard - The Calling | 7
Double IPA, Kansas City, MO
Scofflaw - Basement | 6
IPA, Atlanta, GA
Jekyll - Cooter Brown | 6
Brown Ale, Alpharetta, GA
Left Hand - Milk Stout | 7
Stout, Longmont, CO
Orpheus - Atalanta| 6
Sour Saison, Atlanta, GA
Service - Ground Pounder | 6
Pale Ale, Savannah, GA
Creature Comforts Bibo | 6
Pilsner, Athens, GA
Treehorn | 6
Dry Cider, Marietta, GA
Duvel | 8
Belgian Golden Ale, Belgium
Draft Beers
Creature Comforts - Tropicalia | 7
IPA, Athens, GA
Southbound - Scattered Sun | 6
Belgian Witbier, Savannah, GA
Bell's - Amber Ale | 6
American Amber Ale, Comstock, MI
Three Taverns - Prince of Pilsen | 6
Pilsner, Decatur, GA
Scofflaw - Rotating Tap | 7
Atlanta, GA
Pretoria Fields - Brown Thrasher | 7
Brown Ale, Albany, GA
Wine by the Glass
Bubbles
Jeio | 10/38
Prosecco 'NV | Veneto, IT
Villa Sandi | 11/42
Brut Rose 'NV | Italy
White Wine
Stemmari | 9/35
Pinot Grigio'17 | Sicily, Italy
Raeburn | 14/56
Chardonnay'16 | Russian River Valley, CA
Forris | 10/40
Riesling'16 | Rougue Valley, OR
Trione | 13/51
Sauvignon Blanc'17 | Sonoma, CA
Domaine De Bernier | 10/39
Chardonnay'16 | Loire Valley, FR
Castel Des Maures | 13/48
Rose'17 | Cotes-du-Rhone, FR
Red Wine
Treana| 12/46
Cabernet Sauvignon'17 | Paso Robles, CA
Banshee| 14/52
Pinot Noir'17 | Sonoma Coast, CA
Ercavio| 10/40
Tempranillo '16 | La Mancha, SP
Iris | 13/50
Pinot Noir'15 | Willamette Valley, OR
Prisoner Wine Co. "Unshackled" | 16/62
Red Blend'18 | California
Bottle List
Whites
Maison Louis Jadot | $48
Chardonnay, Macon/Burgundy, France, '18
"Delicate varietal aromas with flavors of apple and melon offset by citrus notes and a crisp acidic balance ending in a clean, lively finish"
Ferrari Carano | $52
Chardonnay, Alexander Valley, '17
"Floral and fruit aromas of orange blossom, citrus, pear, figs, green apple, and a hint of toasted marshmallow and caramel. Creamy vanilla undertones balance layers of toast and spice."

Stags Leap Winery | $55
Chardonnay, Napa Valley, '18
"A beautiful, complex chardonnay with sliced apples and pears, as well as hints lemon and pineapple on the palate, and a creamy mouthfeel."
Quintessa, Illumination | $64
Sauvignon Blanc, Napa Valley, '17
"This wine is fleshy and fruit forward in apple and lime with a stony mineral edge. A twinge of fresh grapefruit flavor brightens the glass and adds to the overall complexity."
Clarendelle | $48
Bordeaux Blanc, Bordeaux, France '18
"Aromas with notes of apricot, white peach, and grapefruit. Great minerality, with powerful and fresh fruit flavor."
Merryvale | $66
Chardonnay, Carneros, '16
"Well-structured, with fresh-cut apple, pear and honeydew melon flavors that are broad and generously spiced. Hints of lavender show on the creamy finish."
Henri Bourgeiois "Sancerre"| $54
Sauvignon Blanc, Loire Valley, France'18
"Intense aromatics of white flowers, flint and lime. Full and rich with ripe citrus, pine needle and smoky minerality. Lovely concentration with a refreshing, long finish."
Pinot Noir
Anne Amie | $52
Willamette Valley, OR '17
"Aromas of red cherry, strawberry, cardamom, and fig. Flavors of red cherry, clove, baking spice, fig. The finish is long with smooth tannins and acidity."
August Briggs | $78
Russian River Valley, CA '15
"Juicy dark cherry and earthy black tea highlight a full-bodied, richly concentrated varietal wine, that's satisfying and soft."
Adelsheim | $50
Willamette Valley, OR '17
"Polished and elegantly complex, with pretty rose petal, raspberry and spiced tea flavors that glide on the long finish."
Dobbes Family | $66
Willamette Valley, OR '15
"Medium to full-bodied, it has a very silky texture and good concentration of ripe, dark fruits with layers of earth and spice."
Patz & Hall | $60
Sonoma Coast, CA '16
"A savory edge of sage and dried herb combines with richer flavors of berries and cola. Textured tannins and bright acidity."
Artesa | $48
Carneros, CA '17
"It's delicately textured in silky tannins, with flavors of cranberry, orange and toasted vanilla. It finishes on tones of cinnamon and cola."
Rhys "Alesia" | $55
Anderson Valley, CA '18
"Lots of black cherries, mulberries, dried spices, savory herbs. Medium-bodied, with a supple, elegant texture, silky tannins, and a great finish."
Cabernet Sauvignon
Fortress | $52
Sonoma County, CA '18
"Aromas of black currant to blackberry with a bit of mocha and a little of sweet vanilla. The palate is fruit-forward with dark lush blackberry, blueberry, and black cherry flavors."
Turnbull | $72
Napa Valley, CA '17
"Its nose is floral and displays a bevy of dark fruit character with no overt new oak usage. Finishes crisp, satisfying and refreshing. It's hard to ask for more at this price."
Le Cole No.41 | $62
Columbia Valley, WA ' 15
"A lovely, vivacious wine packed with excitingly pure blackcurrant fruits. Smoke, spice and finishes with polished tannins on a smooth, powerful finish."
Austin Hope | $65
Paso Robles, CA '17
"Deep, vivid and succulent with oodles of soft chocolate, blackberry wealth and a spoonful of fudge sundae. Ripe and enjoyable."
Peju | $72
Napa Valley, CA '15
"Dark fruit with subtle hints of baking spices. Concentrated flavors of mocha, plum, blackberry chutney and cocoa nibs lead to a rounded finish with velvety tannins."
Frank Family | $88
Napa Valley, '16
"Flavors of hazelnut, cloves, and intense berry fruit with brilliant acidity on the finish, providing an intriguing and full-flavored experience."
Scattered Peaks | $48
Napa Valley, CA '17
"Black cherry and cassis mingle with the essence of black licorice and violets as well as dark cocoa notes. Velvety tannins and a touch of vanilla support the long and lingering finish."
The Calling | $54
Alexander Valley, CA '17
"Dark plum red in color with aromas of ripe blackberry and dark chocolate with hints of spicy oak and black pepper. The palate is rich and concentrated with flavors of ripe blue and black fruits."
TRUCHARD | $52
Cabernet Sauvignon, Carneros, CA'18
"This elegant red is soft, supple and rounded in cassis and black cherry. Nuanced oak allows room for a hint of baking spice, clove and vanilla to complement the fruit."

Unique Reds
Brancatelli | $62
Super Tuscan, Tuscany, Italy '15
"Dark red fruits enrobed in a soft texture makes this an exceptionally pleasing wine to drink."
Ridge East Bench| $65
Zinfandel, Sonoma, '17
"Medium to full-bodied, it has wonderful earth-tinged fruits in the mouth with chalky, integrated tannins and juicy acidity, finishing long and layered."
Whitehall Lane | $62
Merlot, Napa Valley, CA '15
"This red offers an intensely fruity aroma, with well-knit flavors of plum tart, wild berry and dark cherry. A minerally snap lingers into the finish, offering luscious spiciness."
Robert Sinskey "POV" | $78
Bordeaux Blend, Carneros, CA '16
"Deep blackberry and blueberry fruit notes with fresh picked herbs, bramble and forest floor lead to an aromatic bouquet that is shy at first and opens with a swirl in the glass."
Cain Cuvee "NV12" | $60
Bordeaux Blend, Napa Valley, CA
"Dried cherries and raspberries, meld with hints of wild herbs from fields and forest, floating above a delicate background of warm, spicy oak."
Orin Swift "Abstract" | $65
Blend, Napa Valley, CA '18
"A bold and jammy blend, plump with personality, offering blackberry, espresso and smoky, peppered beef flavors that build structure toward medium-grained tannins."
Vina Alberdi | $52
Tempranillo, Rioja, Spain '13
"It's medium-bodied with some pretty, ripe fruit in the center palate, fine tannins and a citrus and cedar undertone to the finish."
Chateau lassegue "Les Cadrans" | $45
Bordeaux Blend, St. Emilion, France '15
"Aromas of wild strawberries, raspberries, and a subtle woody note immediately emerge from the glass. The wine is smooth on entry, with a palate dominated by red fruits."